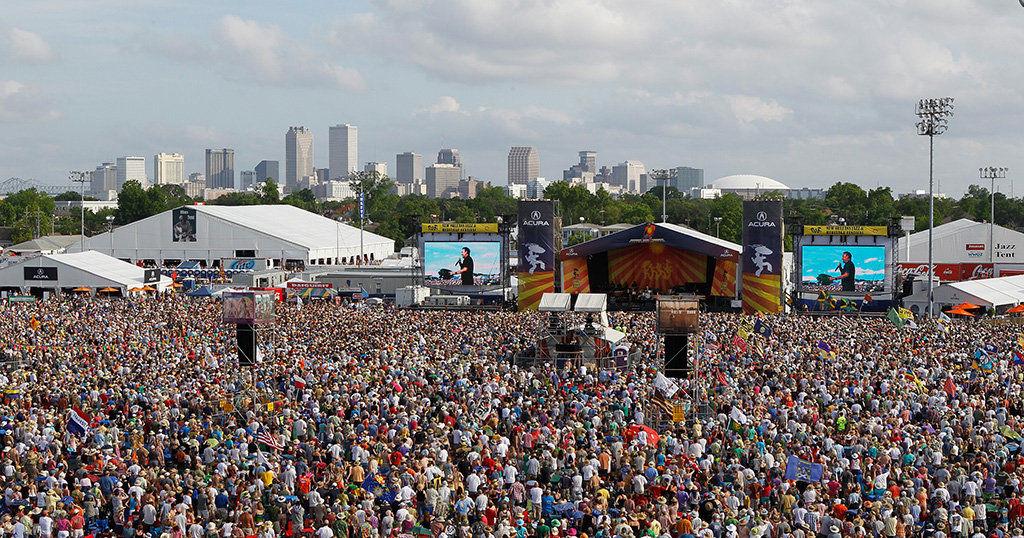 AXS TV Adds 4th Day to Jazz Fest 2014 Coverage Schedule | Louisiana Festivals
The New Orleans Jazz & Heritage Festival presented by Shell has renewed its partnership with AXS TV, Mark Cuban's cable television network, which will add a day of live broadcasts from the fairgrounds on the second weekend of the festival. Among the numbers that will be worn by AXS: Christina Aguilera, Santana, Arcade Fire, Vampire Weekend, Robert Plant and the Sensational Space Shifters, The String Cheese Incident, John Fogerty, John Hiatt and Trombone Shorty and Orleans Avenue.
AXS aired 30 hours of music on the Friday, Saturday and Sunday of the festival's second weekend in 2013. The cable broadcasts were viewed by approximately 5 million households, according to an AXS press release. The network's schedule this year will cover May 1-4, adding Thursday.
AXS is currently airing a special featuring performances from 2013, including Billy Joel, John Mayer, Maroon 5, Willie Nelson and Allen Toussaint. "New Orleans Jazz & Heritage Festival Best of 2013" ​​will then air at 11:00 a.m. Thursday (February 27), with another repeat at 11:00 a.m. on March 5. AXS airs locally on AT&T U-verse channel 1106, DirecTV channel 340, DISH channel 167 and charter channel 857.
Internet radio network TuneIn also aired the Jazz Fest shows last year. A Jazz Fest spokeswoman said Thursday (February 20) that the festival is again looking for a national radio partner this year, to supplement the usual live coverage offered by WWOZ FM-90.7 of New Orleans, which also broadcasts on WWOZ. org.
Here is an edited Q&A email with Cuban:
Q: Why is the continued partnership with Jazz Fest a good fit for AXS? When did you know that you would continue the shows this year?
A: We want to host as many amazing festivals as possible to get the rights. Few ever reach Jazz Fest level. We were still confident that we would get the broadcast rights, but we didn't have a definitive confirmation just before the press release date.
What worked well last year? What can you improve this year?
Everything was working fine, but we didn't have the rights to all the acts. So there were downtimes that we had to make up for. This will not be the case this year. We are locked up for all but a few acts. It will be wall-to-wall music from start to finish. To call it an incredible cornucopia of music would be an understatement.
What has the network learned — other than packing mud boots — from its first year of experience? About the audience? About the party?
How many people have a connection with Jazz Fest and love it. The social media response from people who said they had been in the past and were incredibly grateful to be able to reconnect through our show has been tremendous. Each had a story to tell and a thank you note for the broadcast.
Are there any changes to how the festival will be covered this year? You added a day. Why?
We added daytime because we're streaming so much more music live than last year. We didn't want to leave anything out!
What were your favorite elements from last year's show?
Local jazz bands you only find at NOLA.
What acts on the broadcast lineup are you looking forward to seeing?
All, of course.
Is there a chance that Bruce will be added to this list?
Stay tuned.
Were you in town for the NBA All-Star Game? How did that happen ? Do you see music?
Yes. I went to parties. I've seen Drake, Lil Wayne. NOLA did a great job. Everyone I spoke to had a great time.
AXS 2013 coverage
Learn more about AXS in 2013
And more
Do you have a question about television? Contact Dave Walker at [email protected] or 504.826.3429. Learn more about TV coverage at NOLA.com/tv. It is @DaveWalkerTV on Twitter and Dave Walker TV on Facebook.