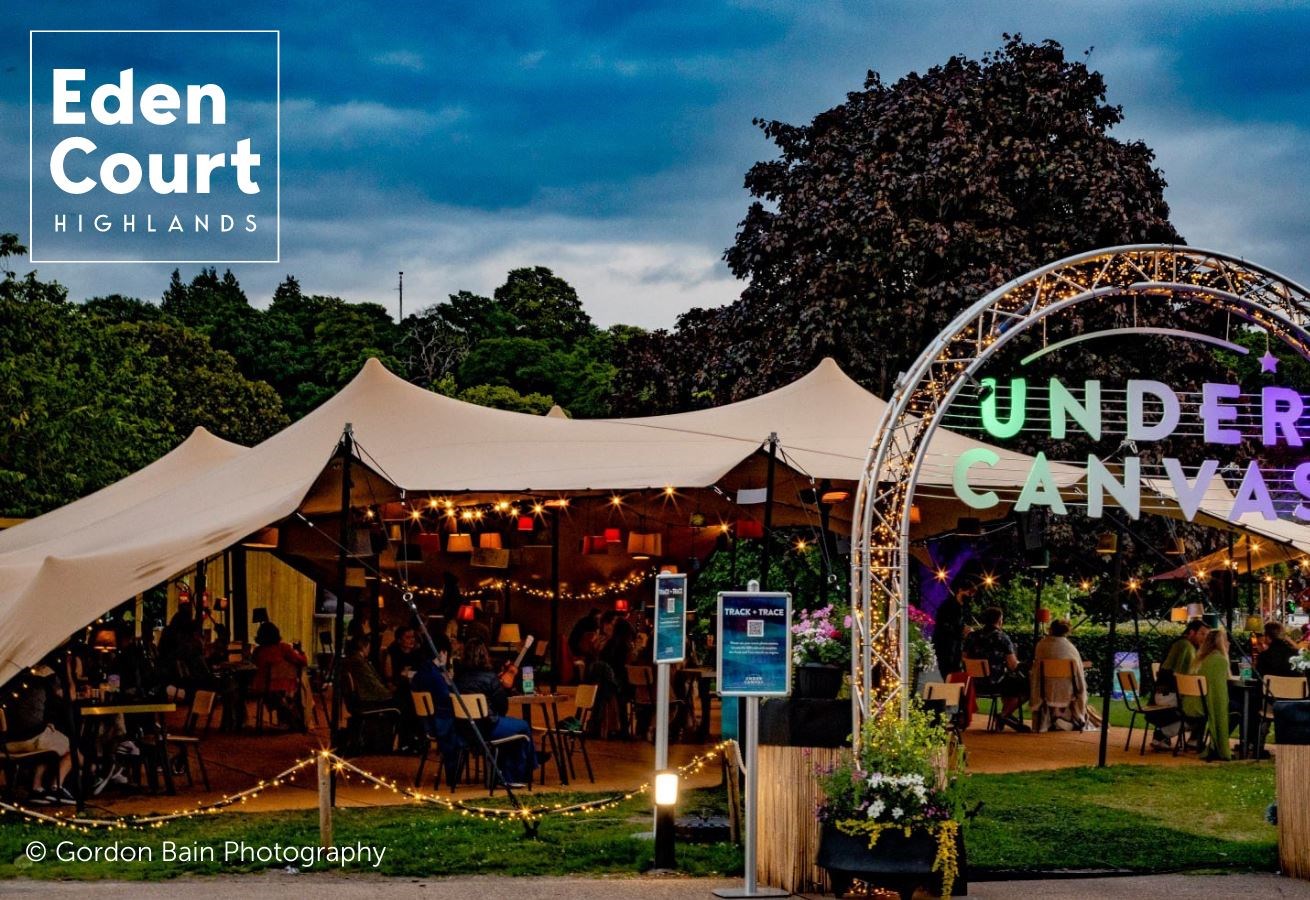 Call for artists as Under Canvas returns to Eden Court with Dingwall-based Fèis Rois retiring from programming
Eden Court will be programming Under Canvas this year, as Fèis Rois ends the successful partnership of the past three years.
Eden Court says he is grateful to Fèis Rois for their valuable contribution in establishing the festival and wishes them the best for their future endeavours.
And the Under Canvas team says they're excited to be programming this year's events and working directly with local artists.
The call for artists is now open to artists and bands who have never played Under Canvas before, contact below.
Seona McClintock, Eden Court's Producer for Gaelic and Traditional Acts, said: "Under Canvas in 2021 has been a huge success, and we're looking forward to another summer of music, pizza and drink in our expandable tent.
"Last year we invited a number of bright new artists to play as part of our open call, so we've brought it back for 2022.
"It's a great way for emerging talent from the Highlands to bring their music to the attention of the Under Canvas team and we're thrilled to discover this year's gems.
"We would like to thank Fiona and the Fèis Rois team for being such great partners over the past few years.
"They do a wonderful job of promoting and supporting traditional music in Scotland and it was a privilege to start Under Canvas with them.
"Ahead of this summer, we are working on a varied and exciting program that features many talented musicians and performers over 42 days. We are also committed to offering tickets on a pay-per-view basis, so that this special festival is as accessible as possible to the public.
A family-friendly event, Under Canvas features live traditional music, DJ performances and sets, and a bar serving pizza from our outdoor wood-fired pizza oven, as well as local beers, gins and whiskey .
Contemporary folk music and traditional Scottish music are at the heart of Under Canvas, accounting for approximately 60% of all performance opportunities for artists. There will also be acoustic, jazz, indie, world music and DJ sessions.
Special events and organized weeks will take place during the festival and more information will be available on our website in the coming weeks.
Fiona Dalgetty, Managing Director of Fèis Rois, said: "It was a joy to create Under Canvas in partnership with Eden Court in 2018 and to build on this initial success in 2019 and 2021, providing paid performance opportunities to hundreds of musicians at all stages of The past two years have been incredibly challenging for the arts and culture sector and as such Fèis Rois must focus on rebuilding its own core program this summer, we will not we will therefore be more involved in the programming of traditional acts at Under Toile.
"I know Eden Court will continue to build on the success of Under Canvas to this day. I'm really looking forward to coming as an audience member!"
The call for artists is now open to artists and bands who have never played Under Canvas before. To find out more about what Eden Court is looking for and how to submit your music, visit: www.eden-court.co.uk/under-canvas
---
Do you want to react to this article ? If yes, click here to submit your thoughts and they may be published in print.
---