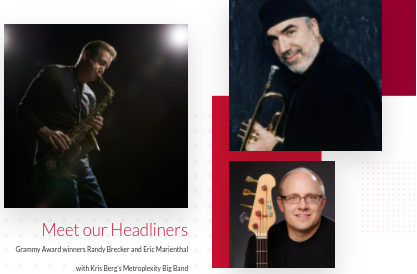 Casper's 'Kinser Jazz Festival' headliner moved to NCHS to accommodate larger crowds
CASPER, Wyo. – Casper College said Thursday that the 54th Annual Kinser Jazz Festival saw high ticket sales and so the venue for the festival's headlining concert was changed to the John F. Welsh Auditorium at the High School of Natrona County.
The headlining concert is now scheduled to begin at 7 p.m. on Tuesday, February 15 at the NCHS Auditorium. This concert will feature Eric Marienthal, Randy Brecker and Kris Berg and the Metroplexity Big Band.
Most of the rest of the Kinser Jazz Festival will still take place in Casper College's Wheeler Concert Hall, located in the Music Building. Events are scheduled to take place from 8 a.m. to 5 p.m. February 14-16. Events include a presentation of the headlining musicians which will take place at noon on Tuesday, February 15.
There are also student performances from 45 different ensembles taking place during the festival.
"Tickets for the Tuesday night concert are $25 for adults and $15 for students and can be purchased online at eventbrite.com/e/2022-kinser-jazz-festival-tickets-161164540479 or by calling 307-268-2606 or 800-442-2963, ext. 2606," Casper College said. "All other events are free to the public. The full calendar of events is available at caspercollegearts.cc/kinser-jazz-festival."
A regional festival of 'Essentially Ellington' jazz bands will also take place on Wednesday and will feature jazz judges from Lincoln Center's 'Essentially Ellington' program, as well as those presented by the Kinser Jazz Festival. »
This year, the Kinser Jazz Festival is sponsored by:
Wyoming Jazz Educators
The Wyoming Symphony Orchestra
ARTCORE
hill music
The Board of Cooperative Educational Services – BOCES
Natrona County Joint Powers and Recreation Commission
The Casper College Foundation
Casper College
Related