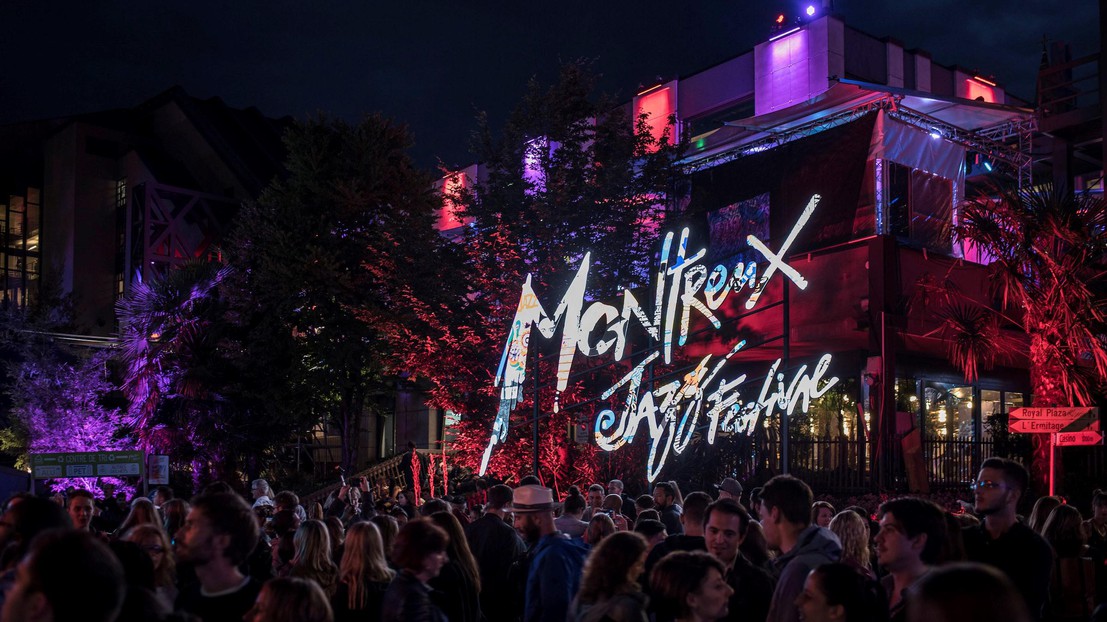 Celebrate safely at the Montreux Jazz Festival
An EPFL PhD student in urban sociology worked for four years at the Montreux Jazz Festival to better understand how safety and security are managed, in and around this world famous event.
The Montreux Jazz Festival (MJF) is an annual event that takes place over 16 days in the center of Montreux, on the shores of Lake Geneva. For the organizers, maintaining a festive atmosphere while ensuring the safety of people and minimizing risks is a constant challenge, especially since the site is mostly outside and accessible to the public.
Doctoral student Lucien Delley set out to understand how the event organizers manage this challenge as part of his unconventional thesis research. He spent three years, from 2017 to 2019, working at the MJF as a security coordinator while studying sociology. "Analyzing something when you're an insider is not an easy task," says Delley, who did his research for EPFL's Urban Sociology Laboratory (LASUR). "Sometimes I became the subject of my own investigation." He will present his findings at a free event at the festival on July 16.
For her research, Delley joined the festival's operations department, which handles everything from site layout and facilities to outlets, security and sustainability. As Security Coordinator, he was responsible for crowd management, access control, risk prevention and mitigation – a role that required a detailed understanding of attendee behaviors and practices.
The study focused on two specific sites: the Strobe Klub (indoors) and the Parc Jean-Villars-Gilles (outdoors). These sites require very different approaches to safety and security. Delley describes the method adopted indoors as risking "domestication", while at the park staff aimed to "tame", focusing on building relationships and promoting inclusion rather than isolation. exclusion. Moreover, as the festival takes place every year, Delley sees it as a good testing ground for new approaches and urban practices.
The Strobe Club
The Strobe Klub is a free electronic music venue that opened in 2016 when MJF celebrated its 50th anniversary. Until 2017, it was located at the Petit Palais before moving in 2018 to its now permanent headquarters at the Montreux Music & Convention Center. says Delley.
The original Strobe Club was opened by the festival's founder, Claude Nobs, in 1968. The MJF split from its original venue, the Casino de Montreux, in 1993. The Casino attempted to set up an event competitor, the Dance Sensation Festival, but it was quickly shut down by the authorities for excessive drug use. This ban coincided with what Delley calls a period of "tension".
As Delley explains, local governments "domesticated" the electronic music scene – including the MJF – in a way similar to other countercultures. "After the ban, these places adopted 'selective' practices: they made attendance free, but also set up barriers and spotters and placed security guards on site. Security personnel must distinguish between being friendly and welcoming and allowing people to have a good time, and ensuring everyone's safety and managing risk. After reviewing door policy at the Strobe Klub, Delley found that MJF security guards made subtle decisions about who to admit and what items were allowed inside, seeking to minimize risk while maintaining a safe atmosphere. consistent with one of the fundamental values ​​of the festival. : hospitality.
Parc Jean-Villars-Gilles
Although Parc Jean-Villars-Gilles is not an official venue for the MJF, between 300 and 500 young people meet there every evening throughout the festival. In 2017, the park was the scene of clashes between 300 young revelers and law enforcement. "The police had to escort medical personnel to the site to attend to a person who wasn't feeling well after drinking too much, and things got out of control," Delley said.
The following year, the town hall of Montreux and the organizers of the MJF called on social workers to engage with the young people of the park and act as a positive face of the event, alongside the security guards. Social workers distributed water bottles with messages designed to help people stay safe. Delley describes this as the right approach, as it demonstrates an acceptance of risky party-goer behavior without attempting to ban it or involve the police.
These young people may not want to participate in the official festival, but they still want to be nearby to feel involved in the experience.
"For many young people, drinking and using drugs is a rite of passage," says Delley, who worked as an educator at a residential center before returning to school. "It is important to recognize and accept this if you want to understand the reasons. These young people may not want to participate in the official festival, but they still want to be nearby to feel involved in the experience. They see the park as "their" place, gathering large crowds and playing music. This is an important step in their socialization.
Towards taming
This approach, which involves a degree of tolerance and relationship building, is what Delley calls "taming." According to him, this requires a change in mentality about security, away from the binary logic that puts law enforcement in one camp and social work and risk prevention in another. "I don't have a naive view of things," Delley said. "It is obvious that when young people gather and party, they will cause public disorder. But the security policies typically used at parties and festive events point to more serious issues, such as the stigma and exclusion faced by certain sections of society as a result of their practices. While event organizers tend to justify these policies on safety and security grounds, these policies also drive a wedge between different groups cohabiting in the same space. Building a relationship would be a more appropriate option.
Safety policies typically used at parties and festive events point to more serious issues, such as the stigma and exclusion faced by certain sections of society due to their practices.
According to Delley, taming represents a fundamental shift in approach to managing risk and uncertainty – rather than introducing blanket prohibitions or micro-managing each situation, it involves learning to live with life in all its diversity and to find new ways to coexist. "This approach reflects a new social and urban conception of the relationship between partying and safety," explains EPFL researcher Luca Pattaroni, who led Delley's thesis. "It's an essential part of transitional thinking."
Montreux Jazz Festival, free event: "Strobe Club: an amazing history of electronic music", conference by Lucien Delley, July 16, 2022, 10:30 p.m., Lake House Cinema, Petit Palais, Montreux.