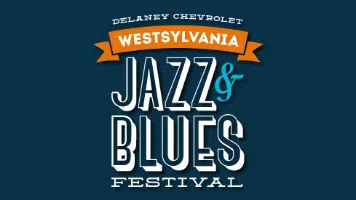 DELANEY CHEVROLET WESTSYLVANIA ANNOUNCES JAZZ AND BLUES FESTIVAL LINEUP
Later this month, downtown Indiana will once again be filled with blues and jazz with the return of the Delaney Chevrolet Westsylvania Jazz and Blues Festival on May 28.and.
The festival will return to its traditional IRMC Park home on North 7and Street where a one-day music festival takes place with local, regional and national blues bands. The 2020 edition of the festival was canceled as a result of Covid-19, and last year's festival was held along Philadelphia Street in a socially distanced setting. After-hours performances will also be back at many local establishments in downtown Indiana.
Performers on this year's program include award-winning composer, drummer and percussionist Hugo Cruz, who will do double duty by working with the Marion Center High School Jazz Band to open the festival at 11 a.m. and performing with his own band, Caminos, at 5:45 a.m., with the second performance presented by the August Wilson Center and the Pittsburgh International Jazz Festival. The star performer at the end of the festival will be Gentlemen Brawlers, a six-piece psychedelic soul band based in Brooklyn, who have opened for many Grammy-winning artists and been featured on the music show "Daryl's House". with Daryl Hall of Hall and Oates.
Other artists scheduled include Alex Price Project, Jukehouse Bombers and the Paulo Schianchi Trio.
For more information, you can connect to the festival website, www.westsylvaniajazzandblues.org. The festival is free and open to the public.
.