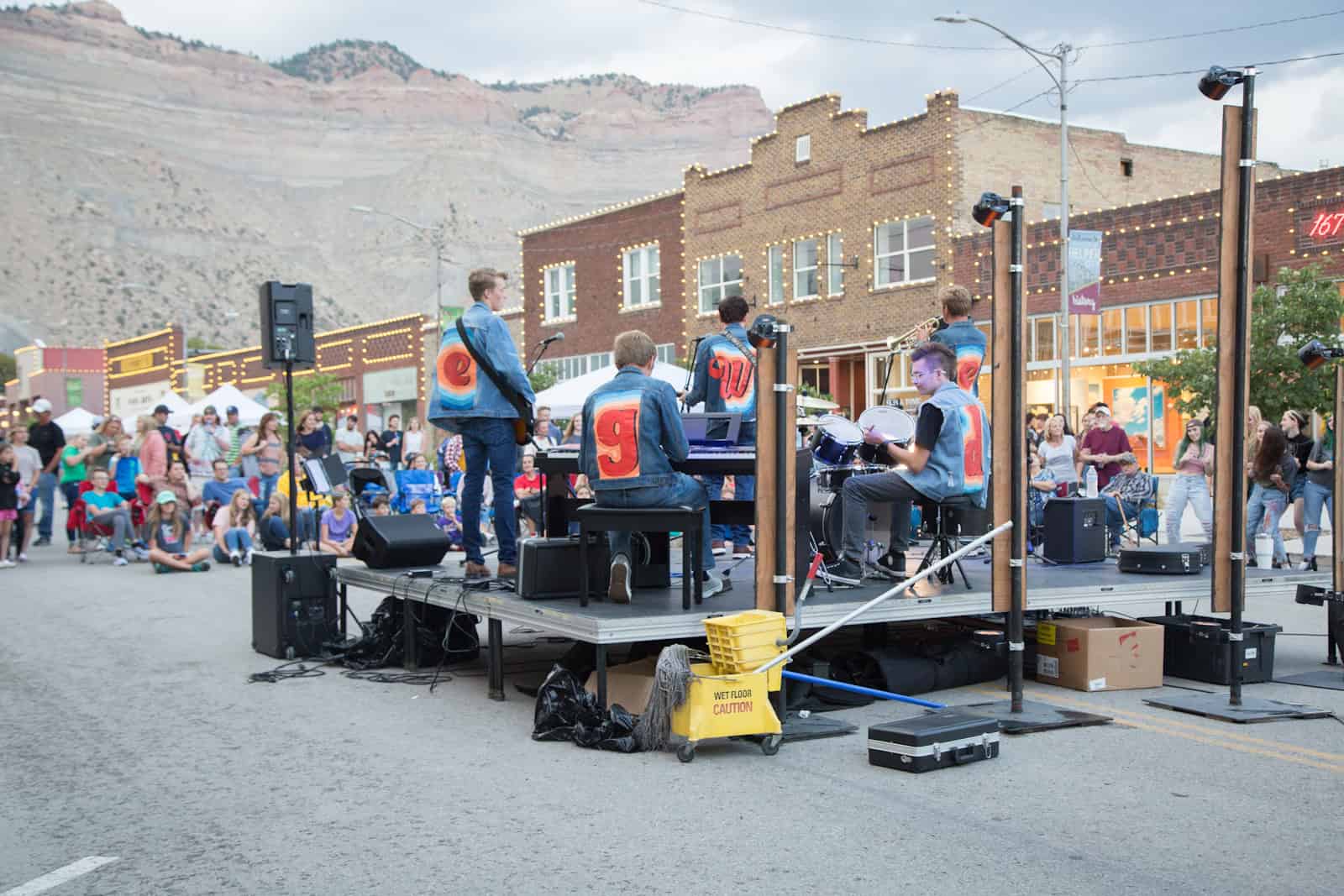 Helper Arts Festival includes live art, music, vendors
Mark your calendars for a mini-road trip: the Helper Arts Festival, in Helper, about two hours north, takes place August 19-21. The three-day festival includes live music, gallery walk, car show, children's art court, open mic nights, beer garden and, of course, food vendors. art and food.
"I think the festival expands everyone's horizons," said Hannah Patrick, the vendor's organizer. The festival is a one-stop-shop for event-goers to see all that Helper and Utah have to offer. Plus, said Patrick, participation is free. Last year, more than 4,000 people attended the festival.
Ahead of the weekend festivities, there will be a gallery walk on Thursday, August 18 on Main Street, with live music from Ricardo Romero's Latin Jazz Band. There will also be two live music performances at the Rio Theater: Rosetan will play from 8-9pm, followed by Brydgs & Devin Knight.
Art and food vendors
Art and food vendors will set up along Helper's main street from 2:00 p.m. until dusk on Friday, 10:00 a.m. until dusk on Saturday and 10:00 a.m. until 1:00 p.m. on Sunday.
The 60 art sellers are from across the West, Patrick said: Most are from Utah and many from Helper, but there are also artists from New Mexico, Arizona and Wyoming. Art forms also vary: there will be photography, woodworking, metalworking, painting, drawing, ceramics, jewelry, leatherwork, and other handmade objects.
"The interest from artists and food vendors has just come out of the roof," Patrick said, adding that the festival is at its selling capacity. This year is the first year it's been "back to normal" since 2019: In 2020 the festival was canceled, and in 2021 it was much smaller, Patrick said.
There will also be live street art by graffiti artists at the corner of Main and Depot streets on Friday and Saturday evenings, from 7 p.m. to 10 p.m.
live music
The festival works with Kenny Driggs, who runs a production company in Los Angeles, to organize both the musicians and the performances. In total, the festival will welcome 20 artists on three stages.
"The approach this year is that each of these musical acts is worth seeing here," Driggs said.
There are two outdoor stages: Main St. Park and Depot St. Stage; and one interior: the Rio Theater, which Driggs says was recently renovated with new lighting and audio.
"Even our outdoor stages will have full production designs – good lighting and audio support, so the music feels like it's Coachella or some other festival you paid for," Driggs said. "What we've put together here will be really fantastic and fun."
On Friday, Brian Stucki and Walter Ergo: A Rock Opera will perform at the Rio at 2 p.m. and 4 p.m., respectively. At 6 p.m., Cardinal Bloom will open the Main St. Park store, followed by Scott Lippitt, 3HatTrio and Jake & the Heist.
On Saturday, all three stages will be used. Brian Stucki and Walter Ergo will play at the Rio again at the same times. Music at Main St. Park begins at 6 p.m. with Lee Rafugee, followed by Brother Chunky, Caydin and Summer Bell, and Grizzly Goat. The music at Depot St. Stage begins at 7:30 p.m. with The Lasslo Brothers Band followed by Rosetan, then The Klick.
The music ends Sunday with two performances at Main St. Park: Darling & Debonair will play at 12 p.m. and The Backyard Revival will play at 1 p.m.
There will also be an open mic from 6:30-9:30 p.m. Friday and 5:30-7:30 p.m. Saturday at the corner of Main and Depot streets. It's the time when people "bring in their guitars and jump on a mic," Driggs said.
Other events
There will also be a car show, hosted by Vintage Motor Company, on Saturday. The children's art tent is open on Saturday and Sunday; there will also be a stop-motion animation workshop for children on Monday August 22nd.
The festival is free. More information can be found at www.helperartsfestival.com.