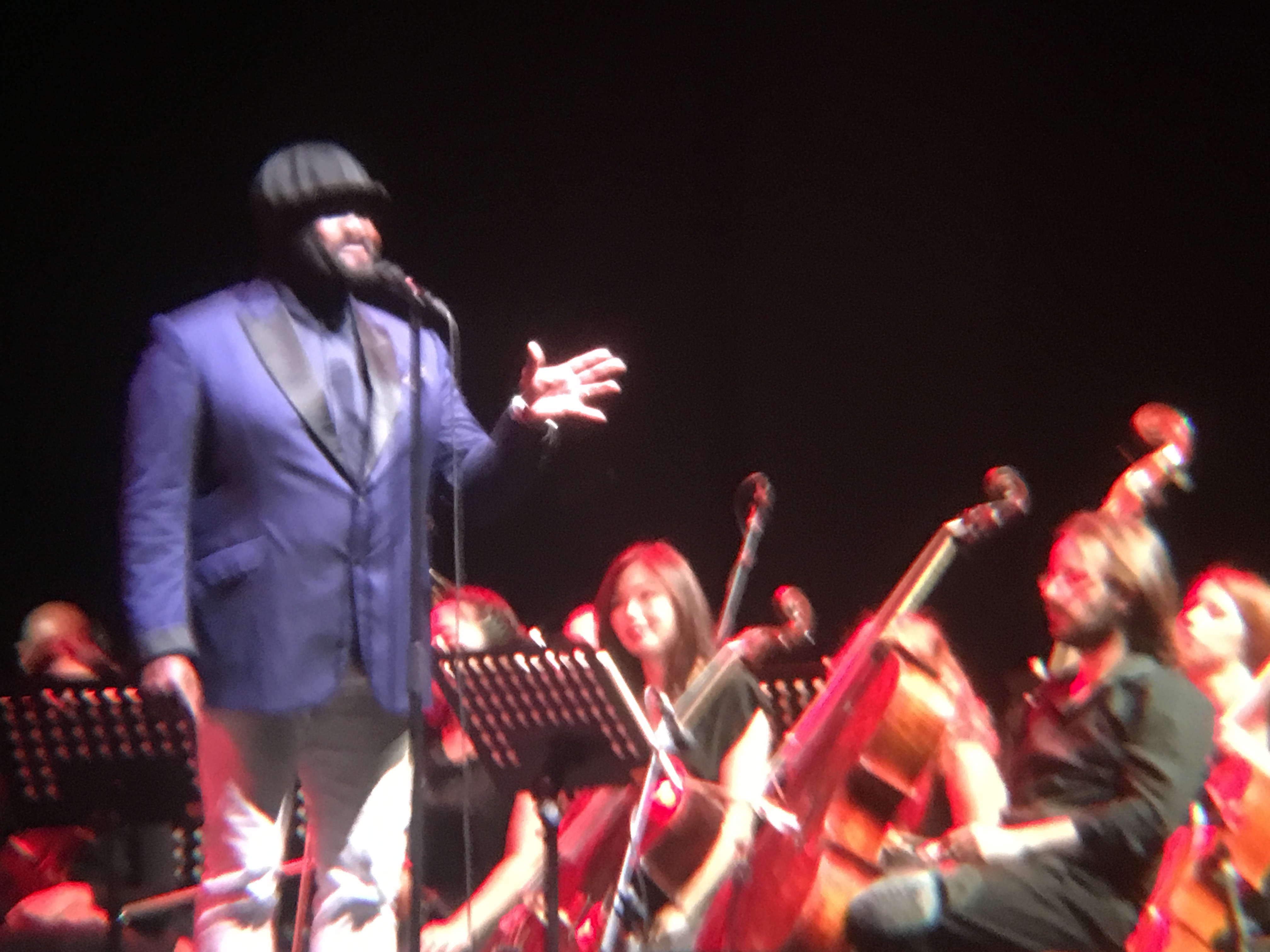 Highlights of the Umbrian Jazz Festival | New York Amsterdam News: The New Dark Sight
[ad_1]
Covering the Umbrian Jazz Festival was a somewhat surreal experience. Strolling around Perugia's old town, watching live music while strolling through historic sites such as the Cathedral, the Etruscan well (dating from the 3rd century) and the Palazzo Sorbello house-museum, a palace dating from the late 16th century which was bought in 1780 by the Marquis Bourbon di Sorbello.
The constant dilemma was whether to stop for ice cream, pizza, pasta, or Italian beer. No no. There will be time later. Right now, jazz is in the air and screams my name, so head to Jazz Goes to the Museum for Dan Kinzelman's "Ghost" with multi-instrumentalists Mirco Rubegni on trumpet, horn and snare; Manuele Morbichini on alto saxophone; Rossano Emili on baritone saxophone and bass clarinet; and Kinzelman on flute, clarinet and tenor saxophone.
Like with a ghost, you didn't see what was to come. They sounded like a chamber music quartet. Playing all of the original tunes (from Kinzelman), they started out in a classic area that turned into a flow of intuitive improvisation that continued to flow with more intensity. Yes, avant-garde lives. Lester Bowie and Eric Dolphy would be delighted.
New York's favorite Texan son Roy Hargrove and his quintet performed at the Round Midnight concert at the Teatro Morlacchi. Despite the late hour, the room was packed. His band included alto saxophonist Justin Robinson, pianist Tadataka Unno, bassist Ameen Saleen and drummer Quincy Phillips.
Hargrove, never one for categorization, has traversed traditions from jazz to R&B to hip-hop beats. His arrangement of "Bring It on Home to Me" by Sam Cooke was jerky. Hargrove was in rare form as he danced and sang to the tunes "Never Let Me Go" and "Soothe Me". During his bugle solos on ballads like "I'm Glad There Is You", we don't know whether to cry or sigh. His proficient group was a high rising force throughout.
Who would have thought that the Younger Take 6, who hosted the first a cappella group in 1980 while attending Oakwood College in Huntsville, Alabama, would still be going strong.
For this festival, the sextet paid tribute to one of their mentors Al Jarreau. They said that, aside from Jarreau's advice, he took them on their first tour in 1989. They opened with his hit "We're in This World Together". It was the vocal trumpet on Miles Davis' "Seven Steps to Heaven". Sometimes the sextet would turn into a duo, solo or trio and move around to play various instruments.
The members of Take 6 are Claude McKnight, Mark Kibble, David Thomas, Alvin Chea, Joey Kibble and Christian Dentley. As a reminder, they harmonized on the word "Hallelujah". Molto bene! A single word in harmony for six voices. Their performance was a spirited sermon, enriched with power, hope and courage. As they noted, "This is dedicated to Uncle Al, to say thank you."
Pianist, composer, producer and conductor Vijay Iyer lit up the concert hall with his sextet as they performed music from his latest CD, "Far From Over" (ECM). The only member missing from the recording was drummer Tyshawn Sorey, replaced by 23-year-old Jeremy Dutton, who was very impressive.
Iyer, who likes to expand his playing beyond traditional jazz barriers, was joined by his regular sextet which included alto saxophonist Steve Lehman, tenor saxophonist Mark Shim and Graham Haynes on crown and bugle.
The sextet flirted with tradition before jumping into a free form that encompasses classic phrasing. The music is explosive like a firecracker, always exciting but never hard on the eardrums. "The title refers to the problems in America and other parts of the world," Iyer said. "The fight against racism and fascism is 'Far from over', the fight for civil rights, women's rights and equality is 'Far from being over'."
David Byrne was a big deal at the festival. He was one of the most eager to see artists, which made sense as he's a creative innovator. He is a multi-instrumentalist, singer, songwriter, record producer, actor and writer whose music spans new wave, post-punk and worldbeat categories.
Before his introduction – David Byrne "American Utopia" – the stage was bare, no piano, drums, bass, nothing. Her 11-piece ensemble took to the stage, all dressed in gray three-button suits like Byrne.
The concert turned into a dance party when Byrne asked security to stop harassing people who were trying to dance, "If you stop them from dancing, the concert is over." Nuff said!
Musicians Aaron Johnston on snare / hi-hat and Daniel Freedman on snare / hi-hat had their instruments attached to them, allowing the whole ensemble to occupy the entire stage, walking and falling into a certain creativity choreographic movements. Having the instruments carried by the musicians while opening the stage to various modes of creativity is genius.
Byrne asked Janelle Monae for permission to use her song "Say My Name". Along with a brisk walk, they called out the names of African-American men and women who had been abused, interspersed with chants of "Say His Name". These include recent victims of police brutality, including Walter Scott, Freddie Gray, Sandra Bland, Kimani Gray, Michael Brown and Miriam Carey. Emmett Till was also included.
The ensemble was a real force and guitarist Angie Swan was outrageous.
Singer-songwriter Somi introduced Harlem to Perugia audiences by singing songs such as "Like Dakar", a ballad of traveling through gentrification, something that happens in Harlem as well as Africa. The song "Alien" refers to immigration. Somi is a storyteller with an activist perception in the tradition of Nina Simone, Abbey Lincoln and Miriam Makeba (who shares her African roots). These songs were taken from his latest CD "Petite Afrique" (Sony Music).
The Not A What quintet with pianist Giovanni Guidi, trumpeter Fabrizio Bosso, saxophonist Aaron Burnett, bassist Dezron Douglas and drummer Joe Dyson. This young quintet performed with the intensity of a roaring bullet train on "Straight Life" and entered the station for their encore, "My Funny Valentine". The musicians met 12 days before the concert and rehearsed for three hours. Despite their brief collaboration, the performance went effortlessly.
Kurt Elling's distinctive vocal instrument, that tenor intonation and phrasing, set him apart from the rest of the jazz band. His choice of material is generally off the beaten track, such as his rendition of "A Hard Rain's A-Gonna Fall" by Bob Dylan, "I Have Dreamed" and "American Tune" by Paul Simon, all taken from his latest album "The Questions". (Sony Music). For this live release, Elling featured fellow Chicago player, trumpeter Marquis Hill. "He's a natural fit," Elling said. His encore was an a capella "I Remember Jon Hendrix" with Hill.
If dancing was your goal, all you had to do was follow the sound of the washboard to the sound of Rockin 'Dopsie Jr. & The Zydeco Twisters. During their late night or afternoon concerts, they made adults, teenagers and students dance for the duration of the shows. "We have so many diverse musicians in the band, we do everything from R&B, funk and blues," said frontman, singer and washboard player David Rubin. "I call songs by the vibrations of the audience." One late evening, the nine-piece band which includes his two brothers, drummer / singer Alton Rubin Jr. and accordionist Anthony Michael Rubin, made the audience dance frantically outdoors to tunes such as "Purple Rain," "Hey Jude". and "I shot the sheriff." They are from New Orleans, playing the warm roots of Louisiana zydeco music.
The Umbria Jazz Festival ended in style with Harlem's favorite son, singer Gregory Porter. It is a pleasure to see Porter at such international festivals, having gone from St. Nick's pub in Harlem. Porter brings the soul, like a Southern Baptist minister. His sermon for the evening came from his latest CD "Nat King Cole & Me" (Blue Note Records).
Porter stood erect like a black prince, in a blue tuxedo sports jacket with white pants and his familiar black cap. He sang under the Perugia moon as that hip breeze carried his tenor-tinged renditions of "Mona Lisa", "Ballerina", "Ms. Otis Regrets "and" I Wonder Who My Daddy Is "high in the sky as the" King "looked down with a smile and said," You look good, kid, unforgettable. "
The Umbria Jazz Orchestra, composed of 70 musicians, conducted by Vince Mendoza, was such a beautiful accompaniment for Porter. Together, they touched the inner being of the audience like a mother's kiss.
This is how the Umbria Jazz Festival ended, with exceptional moments that will make hearts beat faster. Music defies any language or race. He heals souls and brings the world together for a higher groove.
[ad_2]