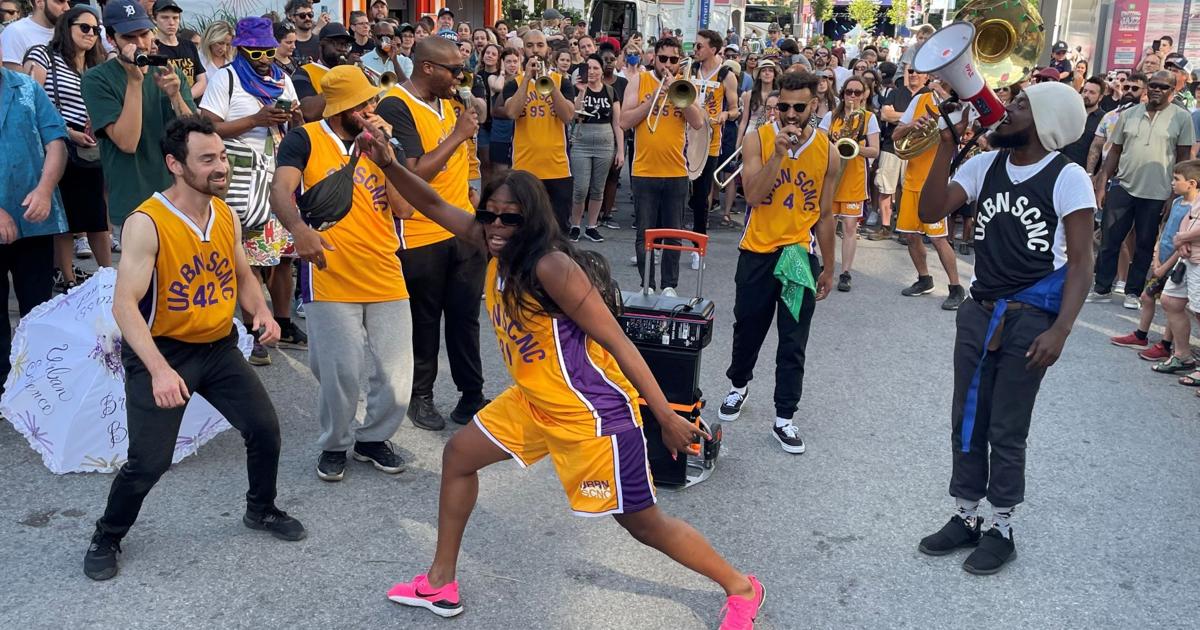 Musical review: Back in shape: the Montreal Jazz Festival comes back to life | Vermont Arts
Oh, Montreal, we missed you so much. After two years of reduced versions reserved for local audiences, the Montreal International Jazz Festival came back to life last week.
The world's largest jazz festival concludes its 10-day extravaganza, its 42nd edition, today (July 9) after serving more than 350 concerts on dozens of different stages in the sprawling Quartier des Spectacles, two-thirds of which were outside and free.
The opening weekend was spectacular, with perfect weather rounding out the stellar lineup of musical offerings.
On Saturday, Chicago-based drummer, producer and beatmaker Makaya McCraven, who has quickly become one of jazz's hottest artists, dazzled with his top-notch quintet at Gesù – the last of three early-night shows in three days in the intimate place.
Meanwhile, 24-year-old Bronx-based rising jazz singer Samara Joy brought a more classic jazz sound to the main outdoor stage, impressing a sizable crowd with her soaring vocals on a variety of vintage tunes.
Later in the evening, the anticipation was palpable for sax titan Kamasi Washington's big outdoor concert. The Los Angeles-based monster musician and his powerhouse band did not disappoint, delivering a superb 90-minute set that included killer new tracks "The Garden Path" and "Sun-Kissed Child" in addition to such standout compositions as " Street Fighter Mas" and closer "Fists of Fury".
At nearby nightclub MTelus, standout Brooklyn rapper Joey Bada$$ had a full house in his pocket, performing classics from his debut mixtape "1999" and other choice tracks – including some from his forthcoming album. , "2000", which is scheduled for release on July 22 — to enthusiastic audiences.
One of the main highlights on Sunday was a crowd-pleasing set from Montreal MC and musician Waahli, a member of hip-hop supergroup Nomadic Massive. They delivered a winning blend of hip-hop with Haitian and Afro-Caribbean influences with their seven-piece band – including a guest appearance by Nomadic Massive MC Lou Piensa – on the new Club Montreal TD stage.
Elsewhere, Montreal jazz-soul singer-songwriter Dominique Fils-Aimé performed with her talented six-piece band and strong backing vocal trio at Théâtre Maisonneuve. The prominent Montreal-based Jireh Gospel Choir brought their joyful sound to the main outdoor stage, while Montreal-based Haitian musician and singer-songwriter Wesli and his band delighted the crowd at the smaller Loto stage. -Québec and New York drummer Allison Miller and her group Boom Tic Boom gave two shows on the brand new stage of Pub La Traversée Molson Export.
"You're my all-time favorite audience," Miller told the elated crowd at the end of his second performance, a nod to the festival's reputation for having some of the most appreciative audiences on the planet.
Get the kids started early with the fun in the interactive fountain system at the spacious Place des Festivals, where Canada's largest programmable fountain makes a splash every day with its playful "dancing" water feature .
Families also flocked to a child-friendly area featuring a range of interactive activities and facilities, including a giant piano, face paints and mango blossoms.
Don't miss the daily parade featuring Montreal's popular Urban Science Brass Band, a traveling group of rappers, musicians and dancers who performed lively hip-hop covers every day at 5 p.m.
Food is also a major attraction on our jazz festival tours, and the area around Place des Arts is full of attractive places to eat. We feasted on superb made-to-order dumplings at Chinatown hotspot Mai Xiang Yuan, and had incredible dinners at nearby extraordinary Indian restaurant Darbar and comforting Vallier Bistro.
After dark, the stunning and elaborate lighting system of the entire Place des Festivals area beautifully showcases the square during free nighttime concerts. Free outdoor music is seemingly everywhere, and there's no lull in the nighttime action.
ThomasWhuntington @hotmail.com