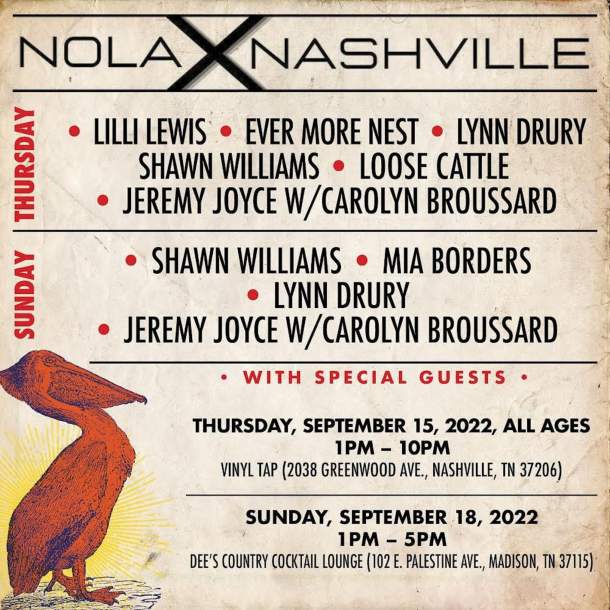 NOLAxNashville Features New Orleans Artists at Americanafest 2022
From the recent Grammy successes of Jon Batiste and the Lost Bayou Ramblers to Chapel Hart's explosion on the national stage and the growing chatter around up-and-coming artists Lilli Lewis and Joy Clark, the Americana music of New Orleans-based artists and born in Louisiana command attention. Crescent City exports more than the funk and jazz music it's known for, and the birthplace of American music is teeming with unique American voices.
New Orleans-based multi-platinum songwriter Jim McCormick says, "American music is always pushing the boundaries of received definitions of the genre." McCormick, a Grammy and CMA nominee, celebrated three No. 1 songs on the Billboard Country Airplay chart, placing songs with the likes of Tim McGraw, Keith Urban, Kelly Clarkson and Jeff Tweedy. McMormick continues, "…New Orleans music has always done [that]so the sounds of today's New Orleans are in harmony with the rich and textured multiplicities of today's American musical world.
With 11 nominations and five wins (including Best American Roots Performance and Best American Roots Song), New Orleans native Jon Batiste has put the city on the music scene. Meanwhile, Chapel Hart hit the Golden Buzzer on America's Got Talent, earning an invitation to the Grand Ole Opry and praise from country legend Dolly Parton. A nationally acclaimed new name is Joy Clark, whose vocals, guitar work and songwriting have earned her her time in the spotlight and that of Allison Russell's band currently touring with Brandi Carlile.
Established American artists like Hurray for the Riff Raff and Americanafest 2022 headliners Leyla McCalla and The Deslondes are all touring with outstanding new albums, as is Lilli Lewis, whose 2021 album titled Americana received the praise from Rolling Stone and earned a spot in the Top 10 of NPR's All Songs Considered.
"American artists in New Orleans often feel like we're swimming upstream thanks to the perception that the main thrust of Louisiana's music exports centers around funk, traditional jazz, blues and band music. Mardi Gras," says Lewis. "But after spending eight years running a Louisiana label that was centered around that, I realized that all of that could be considered Americana with an expanded purpose. I'm thrilled that those of us who claim that moniker are forming a community, and it makes sense to bring our scene to Nashville.
Building on his recent successes, Lewis, along with artists Jeremy Joyce and Ever More Nest, is launching "NOLAxNashville," the first New Orleans-focused showcases during Americana Fest. Performers include Lewis, Joyce, Ever More Nest, Mia Borders, Lynn Drury, Shawn Williams and Loose Cattle (played by cult podcaster Kimberly Kaye and Tony Award-Winner/HBO's The Gilded Age winner Michael Cerveris).
The diversity of programming shows how the New Orleans music scene is increasingly embracing intersectional identity. Borders – part artist and part entrepreneur – hosted a big PrideFest this year that included Lewis, Borders, Ever More Nest and Loose Cattle, all gay-identifying artists. Earlier this spring, Offbeat Magazine shed light on the power of the city's burgeoning American stars with a report centered on New Orleans Jazz & Heritage Festival performances by Lilli Lewis, Joy Clark and Mia Borders, all black and queer frontwomen. .
NOLAxNashville: Crescent City Meets Music City
These shows are open to the public.
Thursday, September 15, 2022
Vinyl Faucet (2038 Greenwood Ave., Nashville, TN 37206)
1 p.m. – 4 p.m.
Lilli Lewis
Always more nest
Lynn Drury
Shawn Williams
free range cattle
Jeremy Joyce with Carolyn Broussard
Sunday, September 18, 2022
Dee's Country Cocktail Lounge (102 E. Palestine Ave., Madison, TN 37115)
1 p.m. – 5 p.m.
Shawn Williams
Mia Borders
Lynn Drury
Jeremy Joyce with Carolyn Broussard