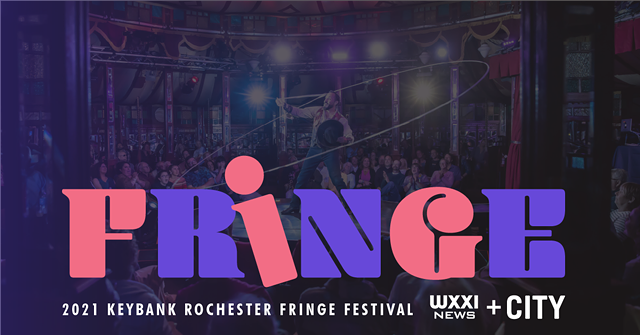 Rochester Fringe 2021 Festival Coverage | Rochester Fringe Festival
[ad_1]
The KeyBank Rochester Fringe Festival is back in person this year, and so are we.
For daily previews and reviews of the performances of the 10th Annual Rochester Fringe, through September 25, this is the place.
And be sure to check back often: we'll have new content from CITY and WXXI reporters every morning, so you don't miss a thing of the essential Rochester Fringe productions this year.
Recap of day 12: "Joywave closes the Rochester Fringe Festival in a loud decibel manner"
Recap of Day 11: "Darkness inspires charming catastrophe in 'Musical Tarot Show'"
Recap of day 10: "PUSH physical theater turns off the" generic man ""
Day 9 Recap: "The Twilight Zone" Gets the Watkins Treatment at a Smart Rochester Fringe Concert "
Day 8 Recap: "Hettie Barnhill Presents Black Lives Matter Local Premiere at Rochester Fringe"
Preview: "Joywave Brings It Home With The 'Smokestacks' Concert At The Rochester Fringe Festival"
Recap of Day 7: "'Sherlock Holmes' mixes dance and death, Letta Neely brings the word"
Recap of Day 6: "A Risen Rochester in 'flOUR CITY Interactive ROCgarden'"
Spotlight on the preview: "Identity search in 'Membership (s)' at Rochester Fringe"
Day 4 Recap: " Remnants 'and' ShMILF Life 'Provide Powerful Information to Rochester Fringe'
Recap of Day 3: "Garth Fagan Dance Comes Home to the Rochester Fringe Festival"
Recap for Day 2: "'Unleashed! Improv 'and' Bushwhacked 'bring the idiot to the Rochester Fringe Festival »
Recap of Day 1: "The Rochester Fringe Festival opens with a wacky 'AfterParty' and a serious 'Ghost Story'"
Spotlight: "Rachel McKibbens' Fringe show goes from obscurity to 'my people'"
Preview: "Rochester Fringe Festival shows seek the light and the heavy"
Preview: "A Rochester Fringe (on the cheap)"
[ad_2]