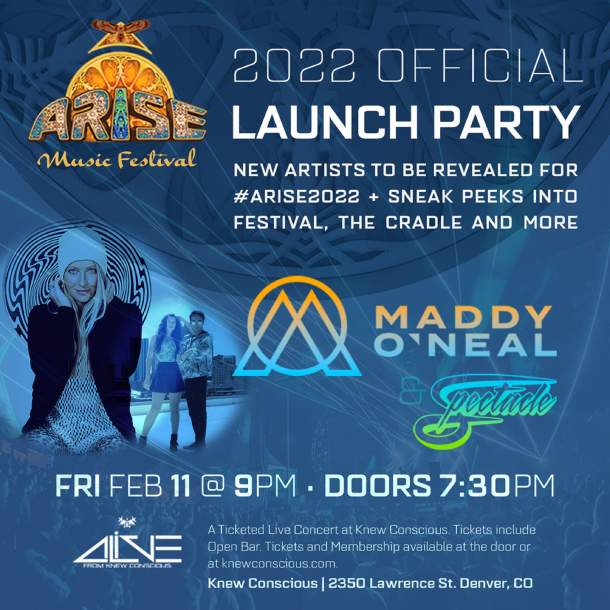 The official launch party of the ARISE Music Festival 2022 takes place on February 11
ARISE Music Festival announces the official ARISE 2022 launch party at Knew Conscious, located in Denver's RiNo Art District, on Friday, February 11. The producers of ARISE will kick off the evening with a special look at the future of the festival, then kick off the party with live performances by Maddy O'Neal and Spectacle. Attendees will be the first to see what's new at the ARISE Music Festival and hear about the newest artists joining the lineup in 2022.
Party guests and festival goers can look forward to a memorable evening filled with live entertainment, special announcements, free giveaways, festival previews, The Cradle, giveaways and more. The unique and innovative features that will be revealed during the pre-show presentation include the village design, as well as special and unique projects underway like the main stage design, ARISE central camp, cabins in trees, culinary projects, nature walks along the Arkansas River and Suite. In addition to the festival's overall creative vision, producers will express their continued dedication to great music by announcing the most recent artists joining the lineup for ARISE 2022.
ARISE Producer Luke Comer said, "For a while now we've been telling people we're doing something new and exciting at The Cradle, now we're going to show them."
ARISE and Colorado performers Maddy O'Neal and Spectacle will spark the celebration. Headliner Maddy O'Neal has caught the eyes and ears of music fans the world over with her tasteful versatility and mixing style. With a constantly evolving sound and an invented "signature", it has carved out a place for itself in the highly diverse electronic genre: soulful melodic overtones, powerful bass lines and mind-blowing hip-hop grooves.
Supporting Maddy O'Neal is a fellow Collaborator and Producer-duo Show. The duo's unique instrumentation brings a multidimensional sound that is typically not heard on the electronic music scene. Breaking the mold of traditional EDM by incorporating jazz, funk, classical, Afro-Cuban rhythms and live instrumentation, Spectacle is known to create a very stimulating live experience.
Participants will have the chance to win two (2) VIP passes to the festival from May 27 to 30, 2022. All party ticket holders will also receive complimentary drinks during the event.
Doors open at 7:30 pm The ARISE 2022 premiere begins at 9:00 pm Music begins at 9:30 pm Tickets for the official launch party are $ 35. Tickets include the Open Bar. Tickets are now on sale at https://www.knewconscient.com/shows/arise-launch-party.
As a non-profit 501 (c) (7) social club around the arts, membership is required to attend all Knew Conscious events.
For more information on artist announcements and presales for the ARISE Music Festival May 27-30, 2022, visit www.arisefestival.com.
Independently owned and operated from its headquarters in Boulder, Colorado, Arise Music Festival creates spectacular, moving and meaningful experiences for our attendees through music, art and other modalities. We offer several genres of music – jam, edm, rock, bluegrass, funk and reggae – and art, dance, yoga, theater, workshops and speakers. Arise strives to inspire all of our participants to take care of themselves, their community and their world.